I will be on vacation. You need to send your order bu June 11th
to receive the DVDs before I leave.
I will be back Aug 1.
---
$59.95
NOW $46.99
ORDER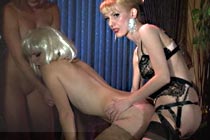 free
preview
"Kat's pain and pleasure"
Mistress Karin whips Kat's ass, tits and her big pussy. She puts butt plug in her ass. Lana is locked in the cage watching Karin playing with Kat. Karin whips and bullwhips Kat's tits. She puts clothes pins on her nipples and on her pussy lips. She uses vibrator on her nipples and clit. She ties her tits with a rope and tortures her nipples. Lana is watching locked in the cage. Kat still has her ass plugged with the butt plug. Mistress puts a vibrating dildo in her pussy. Now she is plugged in her ass and her pussy at the same time. When Karin takes the dildo out, lots of pussy juice runs out. Karin unplugs her ass and puts big , vibrating dildo inside of it. Kat's pussy is ready to be fucked. Karin takes her big red strap-on and fucks her deep and hard from behind. Lana plays with Kat's nipples. Kat cums while Karin fucks her.
Approximately 44 minutes.
(They are also available as a Pay Per View part 1-4)
---
---
---
---
---
---
---
---
---
---
---
---
---
---
---
---
---
---
---
---
---
---
---
---
---
---
---
---
---
---
---
---
---
---
---
---
---
---
---
---
---
---
---
---
---
---
---
---
---
---
---
---
---
---
---
---
---
---
---
---
---
---
---
---
---
---
---
---
---
---
---
---
---
---
---
---
---
---
---
---
---
---
---
---
---