In the House of KARIN
KARIN HAD 4 SIMPLE RULES FOR ME . I WAS TO OBEY HER INSTANTLY WITHOUT QUESTION AND WITH A GOOD ATTITUDE, WITH ENTHUSIASM FOR WHAT SHE WANTED. IN HER HOME IN PRIVATE WITH HER I WAS TO WEAR NO UNDERWEAR WITH ANYTHING THAT I DID WEAR, AND UNLESS GIVEN PERMISSION TO STAND OR SIT, TO BE ON MY KNEES ALWAYS. AND ALSO WHEN IN HER HOME, TO OBEY ANY WOMAN AS I WOULD KARIN. ALSO IN PUBLIC WITH HER I WAS TO WEAR NO UNDERWEAR AND HAVE AN ERECTION IMMEDIATELY IF SHE SIGNALED SHE WANTED IT, BY SNAPPING HER FINGERS JUST ONCE, NO MATTER WHERE OR IN WHAT CIRCUMSTANCE.
KARIN Gives Her Slave to Helen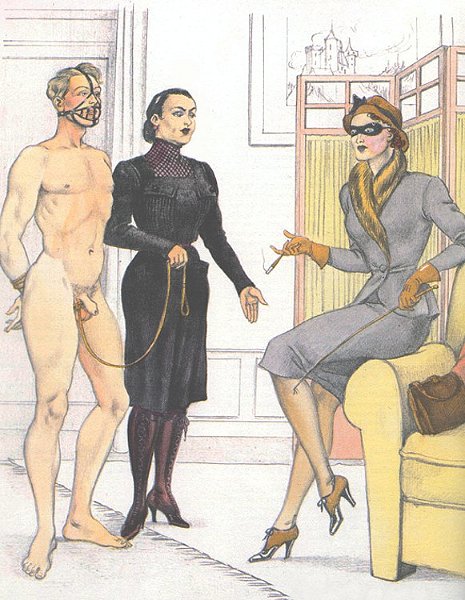 This Day's Beginning
Helen's visit had begun simply enough, like any other. I was clothed as Karin always required when alone with her. IF SHE allowed me to wear clothes: in tennis shorts, no underwear and polo shirt. When Helen arrived to have lunch with us, I did the honors as chef and in serving the meal.
There was nothing unusual in that because it was well-known among Karin's friends that she did not like to cook and that I did the cooking, but that we 'shared' the housekeeping. Actually, when it came to housekeeping, Karin now made me do that, and wear a chef's apron while doing it, and nothing else, so my backside and bottom was always visible and exposed to her crop, which these days she often carried about the house with her. In fact, she now had two or three strategically placed about the home and one always in the bedroom, and a few others hidden in drawers about the house, so they were always available to her. Whenever we had company I had to beforehand scurry about and find and hide the public ones to protect my status from public knowledge.
At lunch Karin was very bossy with me, and reprimanded me harshly several times about my failure to fully or adequately pay attention to Helen's needs. It was as if she was preparing Helen and me, for this eventual scene with Helen.
Still, even then at lunch I had no idea I was going to be finally exposed and given to that hateful creature, Helen. When we finished lunch I cleared the table but piled the dishes in the sink for the 'shared' housekeeping to come later. Karin spoke sharply to me right off, and said, "don't leave them there, do them now, and bring Helen and me some ice tea." I was so shocked I was still for a moment, until she raised her right eyebrow and said, "Well, do you need some other reminder, like my crop?"
I was in shell shock at this blatant exposure, but hoped Helen had not noticed Karin's aggressive tone much less the actual words. I stood stock still for an instant but quickly moved to the kitchen to do the dishes, when her words rang out - "the ice tea now, if you please." I filled two glasses and as I was about to bring them to the women, Karin said again, harshly and with some anger, "quickly, more quickly, move fast, or you will pay…and pay dearly."
I brought a glass to Karin and was turning to serve Helen. Karin was on the couch and Helen sitting a few feet away in a large plush chair. There was coffee table between them.
Of a sudden, Karin became angry and said, "serve my guest first, Lee! Don't you have any sense?" She slapped my face hard, not once but twice. Then slapped my cock in my pants. I was so surprised I did not move at first, but then quickly moved to Helen to serve her. At that point I now had an erection. I was confused, did not know what to think of this very public exhibition by Karin of how she could treat me.
When I served Helen, she reached to take the glass from me and her hand briefly touched my erection as she reached for the glass. She quickly withdrew it as though burned, and I handed it directly to her hands now in her lap. She took it but her eyes were fastened on my erection in some fascination. Probably she had never seen one before, unless she watched porn flicks. She licked her lips, laughed nervously and said very hoarsely, "how interesting, that bump in his pants. You made that happen just by slapping him?"
Well, I could see she intended, and evidently Karin intended, to make something of my now exposed situation. I had hoped Karin would let it go, never dreamed Helen would be so bold as to start making something of it. But Helen now held me right by her side, with her eyes staring directly into mine with a challenging look in them.
Karin said dryly, " well, it takes a little more than slapping him, but yes, for me, he will become as I want him, when I want him to with little effort. I saw you take your hand away from his rod, don't be shy. It won't bite, though it may burn, but go ahead, touch it if you want."
Helen reached out and touched the head of my cock, lightly, then with the flat of her hand pressed it hard on my cock. "It's throbbing," she said, in amazement. It's moving, I can feel it moving and throbbing." She pressed my cock harder and then said, "can I hold it?" Karin answered in the affirmative and further, "hold it, squeeze it, stroke it, lick it, bite it, do whatever you like with it, if it amuses you."
Helen closed her hand around the top of my cock and squeezed. "It's jerking around, it won't be still, am I going to make him cum?" Well, evidently she knew that much about men, as I was getting there. Karin answered, "maybe, but don't you want to see that happen if it happens. I can make him take it out and show it to you if you want."
"Yes" Helen said in a hoarse voice. Karin said to me: "show it naked to Helen." I unzipped my tennis shorts and forced out my member, which was now purple and hot as fire. Helen felt it softly at first, then squeezed and stroked it. "It's so hot," she said, as she continued lightly touching it, stroking it, squeezing it. "Oh!! He's dripping!"
"Yes, he does that whenever he's in heat and erect," said Karin. "Lee, refill my glass."
I turned from Helen's ministrations and with my naked erection poking outside my shorts came to Karin and took her glass, and as I was about to go to the kitchen to refill it, saw with surprise Karin had taken a crop from underneath one of the pillows on the couch which she now swung harshly at the head of my cock. I jumped, but too late, it hit, and she said sweetly, "be still, what did I tell you already about serving the guest first? Are you going to refill my glass without also doing the same and doing first for Helen? Now, stay absolutely still, stick that cock out for my crop!" Whack and whack and whack the crop rained -- left, then right and left and then right down on the head of my cock. Then side to side while I twitched and moaned.
I moaned and whimpered, but Karin had no mercy, after about 12 such she began to aim the crop straight down onto the head of my cock. At that I cried in real pain and after about 6 such blows fell to my knees and bowed my head to her feet in complete submission in an act I hoped would get me some relief, and then and begged for mercy.
Helen was staring in some shock at this brutal treatment, not just of me, but of my cock. She exclaimed, at some point, "Karin, won't you damage him? I mean damage his thing? Karin replied, "oh, don't worry, I'll leave it well enough to serve you if you want it." And she laughed with great humor.
She said to me now kneeling at her feet, and licking and kissing her feet, 'sweet thing, enough for now, more for later, I assure you for my amusement, but for now, bring us our tea." I stood and went quickly to the kitchen and brought their tea. I was so much in shock now, being half naked in front of Helen did not surprise me, nor bother me........................
Finish reading in members area