Non Credit Card Payment Methods To Join Mistress Karin's Members Area
The Terms :
1. The shortest membership that is available is 3 months.

2. I activate your account when I receive your payment.

3. Monthly fee of the membership is $26.99. Thus, you have to send minimum of

$79.99 for the shortest (3 months) membership. OR you may purchase:

6 months membership for $144.99 ($23.99 a month)
1 year for $264.99 ($21.99 a month).
4. User name and password will be sent to you in an e-mail.

5. You may send:

-Pay Pal for the address email me
OR money order or check, please
LEAVE "PAY TO THE ORDER" LINE BLANK
CASH can only be send in priority mail which will give you tracking number

Remember to enclose your email address.

For payments from outside US works better to send cash (if you send cash mail it priority mail- this gives you tracking number). It has to be US dollars !!!

mail to: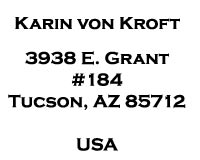 ---
The Best Strict and Sensual Dominatrix Karin von Kroft




JOIN My Member's Site with movies, pictures and audio... NOW!
PROVOCATIVE AND SEXY... Check it out!
---