OnlyFans
FREE TRAIL link to my OnlyFans in my member's area
CHAT WITH ME
http://onlyfans.com/domkarin Main page
Personal audio messages and sexting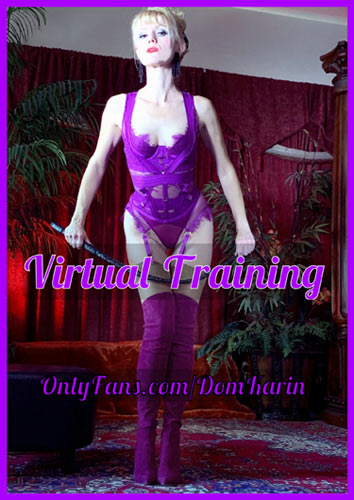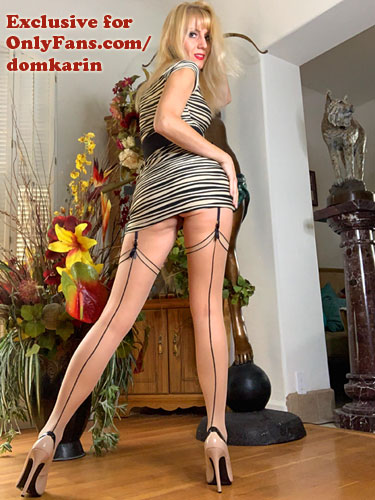 OnlyFans is enhanced, interactive social media.
What you get is more of sexy stuff since you are a patron.
I would like to share with you some of my content that I can take with my phone.
(And it ONLY will be posted on OnlyFans.)

✓ 99% Exclusive content
✓ short naughty videos
✓ sexy selfie pictures
✓ movies clips and pictures of me playing with my submissives
✓ JO instructions
✓ chat with me
✓ personal audio messages and sexting
........
✓ few daily updates
✓extra videos and pictures send to your inbox.

LIKE, COMMENT OR TIP made easy.
Contribut! You can message me there and have input what I post.
Leave comments. Send me your ideas!
Be the patron of what you see. You can show your appreciation by sending tips and tributes.

Why wait if you can have more fun today!
By subscribing you support what I do, so I can do more of it for you.
So be my FAN! Follow me and Click below.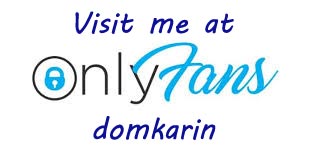 Support what you like so you may get more of it!!!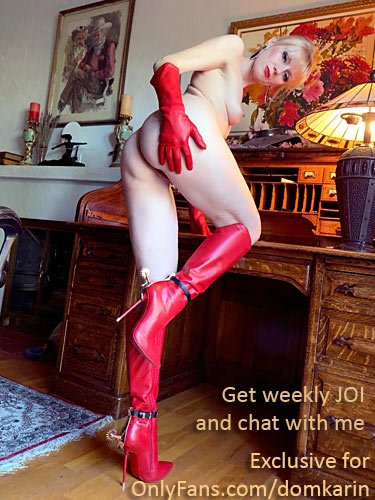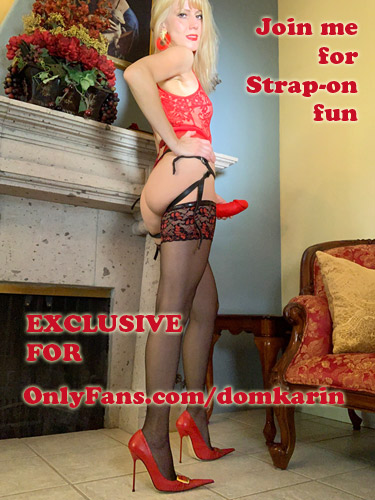 If you want to cancle, it only takes one click.
You still can't decide if you should join?
The cost of subscribing for 30 days is probably less what you pay for going out once for a dinner.
But if you want to get an idea what it is, try my FREE OnlyFans.com/MistressKarin
You will have to set up an account but this page is free forever.
FAQ:
Q: What is the difference between members site and OnlyFans?
A: On members site you will get lots of longer movies where you see me
playing with submissive men. The movies will include various BDSM scenes.
Also you will see full sets of photos of me with men and me solo.
New feature is audio recordings with instructions for you.
On OnlyFans you will find lots of selfies, recordings from my phone,
short teasing movies, more interaction with me, ability to leave comments.
You can participate in my decision what you will see but BDSM scenes are limited.

Q: What is the difference between free and paid OnlyFans?
A: Free OnlyFans www.OnlyFans.com/MistressKarin is a different page then paid one.
It is a preview of the paid page, just to make you familiar how it works.
It is free forever and it has no nudity. Actual content is posted on my paid page.
You can follow free page without any commitments for as long as you wish.
And yes, I am going to tease you there so you want to see more.
Unless you don't like temptations? ....

Q: What do you recommend?
A: They are both different in what you get.
Remember Only Fans is social media. It is less expensive but it will give you
another angle of me. You will see me in various sexy fetish outfits and
you can vote what I wear. I will send you some private photos and clips as well.
You will find it very enjoyable and you will get to know me little better.
If you are looking for actual BDSM movies, I recommend first of all my payperview movies.
If you are looking for variety of movies clips, full sets of photos, stories and
audio recordings then sign up to my members site.
BEST OF ALL, DO IT ALL!!!

On your PC for optimal quality use Google Chrome browser to access.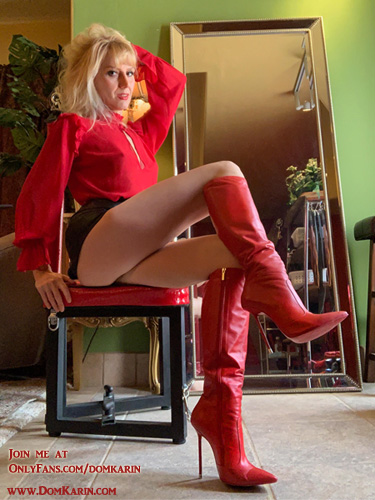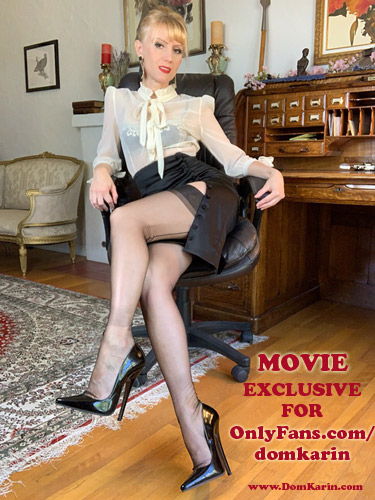 Exclusive vidoes, JOI and photos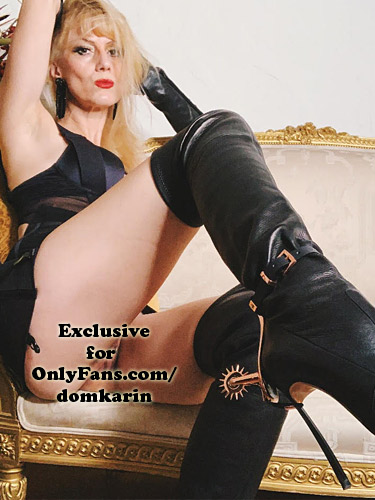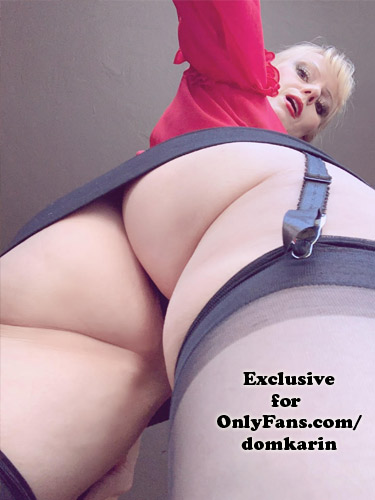 ---
The Best Strict and Sensual Dominatrix Karin von Kroft




JOIN My Member's Site with movies, pictures and audio... NOW!
PROVOCATIVE AND SEXY... Check it out!
---