About Mistress Karin von Kroft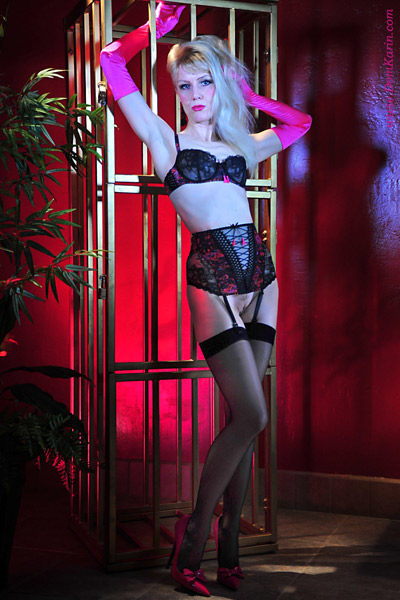 Since my early 20s, I have been a dominatrix. Find out more about me by clicking on the links below to jump to the section you're interested in:
My dominatrix beginnings
I always had an urge to explore the kinky side of sex. When I started, there was almost no online info about BDSM and FemDom. The best way to learn was through doing it. I was fascinated but I never imagined continuing for a long time. Yet, I never quit. I found intense pleasure in dominating men and making them submit and please me. I absolutely loved turning my creativity towards taking beautiful fetish photos and then producing iconic movies. It became my life passion and obsession. Knowing that people are watching me was very exciting. I was always open to learning and trying new things. It was arousing to experiment with a willing subject. Dominating men is when I feel at my best. I feel empowered. It is even better if I can perform it in front of others. I do not have any hesitation or fright but exactly the opposite, I feel excited! I can read men's mind what they are looking for. Sometimes they don't even know what it is, but I do. I can make their fantasy better then they dreamed of. They can feel my joy and power. I love when men are eager to please me. WHEN THEY FOLLOW, I CAN TAKE THEM PLACES THEY HAVE NEVER BEEN BEFORE.
My Dominatrix Outfits
I love wearing fetish clothing, stockings, heels or boots. A lot of times I look for a costume that will show what usually is not allowed and covers normally exposed parts. It feels like I am dressed, yet not. I find it very provocative and sexy. It is my passion to create new tantalizing looks which I can tease my submissives. It is the look they can't get it out of their minds. Sometimes just having stockings, heels, gloves and red lips is an amazing outfit for me!
What I Love About Being a Dominatrix
The best part of FemDom is having men tied up and exposed to my desires, willing to please. I like when they feel vulnerable and helpless by not being in charge anymore. They give themselves to me, to be used, to be my toy and sometimes pain slut. I make them give me pleasure. They like to suffer for me in all different ways. I have few bondage devices that are always fun to use for restraints. I extremely enjoy teasing, especially when men are tied up and there is nothing they can do. They can't touch themselves. They are just completely at my mercy. It is so delightfully evil! I like to make them wait and enjoy the excitement. I train them in obedience and submission. I train them how to serve me properly.
I am looking for men that enjoy bondage, submission and pleasuring me. Not everybody likes pain which is understandable and that is ok with me. It doesn't have to be painful to be fun. I can make edging and desire to cum almost more painful then pain itself. But there is sexual pain that can be very arousing. In the right situations, I like to introduce my subs to experiance the endorphins from pain. SOMETIMES YOU CAN FIND YOURSELF ENJOYING THINGS YOU DIDN'T KNOW YOU WOULD!

My Personal Stats, Favorties and Info
Personal Info:
Height: 5'7"
Weight: 110 Ib
Eyes: Brown
Shoe size: 7.5 or 8 US, 6 UK or 38 Euro
Clothing size: XS or 0
Measurements: 33-25-34
Gloves: Size 7
Birthday: April 16
Location: Tucson AZ, second location San Diego County
Favorites:
Color: Dark red, black, purple
Stone: Amber, ruby
Music: Classical
Drink: Coffee (cappuccino), freshly squeezed juice
Food: If it taste good, I like it
Things to do: Travel, yoga, skiing, tennis, hiking, learing new things...
Life Philosophy: Virtue, the highest good, is based on knowledge; the wise live in harmony with the Divine Reason.
Personal Items and Gifts
I have some personal and used items: panties, lingerie, stockings, available for purchase. I always appreciate gifts and you can view my gift / wish list and spoil me with a gift and to be in my favour.
---
The Best Strict and Sensual Dominatrix Karin von Kroft




JOIN My Member's Site with movies, pictures and audio... NOW!
PROVOCATIVE AND SEXY... Check it out!
---