The Best BDSM DVDs from Mistress Karin von Kroft
---
Order 3 DVDs and receive my book "Secret Fantasies ..." for FREE! (limited time offer)
"Chocolate Party" and "Pary Licker"
"Chocolate party"Mistress Karin enjoys eating chocolate while Lana makes their caged slave lick Karin's ass. Karin puts chocolate on her ass and makes him eat it. The women decide to be generous, and make the slave also eat chocolate out of Lana's ass. Mistress Karin and Lana continue making the slave lick their asses. For being a good ass licker, Karin milks the slave's cock until he shoots cum all over Lana's beautiful breasts, then makes him lick Lana clean. "Party licker"Mistress Karin and Lana put their slave to work licking their pussies. First, he licks Lana's pussy while Karin plays with Lana's breasts and bites her nipples. The women switch, and while Karin gets her pussy licked, Lana plays with Mistress's breasts and nipples. Mistress Karin buckles a mouth dildo on her slave's face and makes him fuck both her and Lana's pussies. Afterwards, he has to lick clean both the dildo and Karin's pussy because Mistress doesn't allow pussy juice to be wasted.
Approximately 40 minutes.
(They are also available as a Pay Per View)
---
"Pee party" and "Toilet Training"
"Pee Party" Mistress Karin and Lana decide to use Karin's new slave as a piss toilet. Lana holds his head while Karin pees in his mouth. The girls then make the slave a special cocktail by mixing their piss in a glass. After making the slave drink every drop of his cocktail, Mistress Karin pisses all over his body while Lana watches and enjoys. Both Mistress Karin and Lana piss on the slave's cock and in his mouth. For being a good slave, Karin milks his cock while he licks pee off Lana's pussy. The slave has a very loud and intense orgasm. "Toilet Training" Mistress Karin begins training her slave to be a good toilet by teaching him to open his mouth for her spit and piss. Now Mistress Karin trains her toilet slave to swallow her spit and piss. After learning to be her toilet, the slave is allowed to come.
Approximately 41 minutes.
(They are also available as a Pay Per View)
---
"Slave suffering, girls fun"
Mistress Karin and Lana amuse themselves by torturing their naked and bound slave. Lana smothers his face and makes him lick her pussy while Karin torments his cock and balls. Mistress ties a rope around her slave's cock and balls and sits on his face, smothering him while he licks her sexy ass. All the while, Lana teases his cock while Karin pulls the rope tight. Karin rewards the slave for being a good ass licker by giving him her piss to drink. Mistress Karin pees on her slave's cock and Lana rubs it in. The women spit in his mouth and on his cock, then Karin pisses directly in his mouth. The slave is milked and commanded to ejaculate in a glass, but he accidentally shoots cum on Mistress's face. To punish his disobedience, Karin punches his balls with her fist.
Approximately 36 minutes.
(They are also available as a Pay Per View part 1-3)
---
"Fuck boy" and "Fun with a cock"
"Fuck Boy" Mistress Karin uses her slave for a slow and deep fuck. While riding his cock, she enjoys the sensation of a jeweled butt plug in her ass. Karin inserts her slave's cock in her tight ass while fucking her pussy with a vibrating dildo. After she comes, Karin milks his cock and makes him squirt in her ass. "Fun with a cock" Lana watches while Karin fucks her slave. First she fucks him in her pussy and then she puts his cock in her ass. He cums inside of her ass. Karin makes him eat his cum that just ran out of her ass. Later he cleans the rest of his cum out of her asshole by licking it.
Approximately 55 minutes.
(They are also available as a Pay Per View "Fuck boy part" 1-2 and "Fun with a cock" )
---
$59.95
ORDER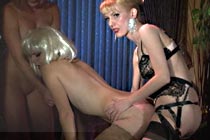 free
preview
"Kat's pain and pleasure"
Mistress Karin whips Kat's ass, tits and her big pussy. She puts butt plug in her ass. Lana is locked in the cage watching Karin playing with Kat. Karin whips and bullwhips Kat's tits. She puts clothes pins on her nipples and on her pussy lips. She uses vibrator on her nipples and clit. She ties her tits with a rope and tortures her nipples. Lana is watching locked in the cage. Kat still has her ass plugged with the butt plug. Mistress puts a vibrating dildo in her pussy. Now she is plugged in her ass and her pussy at the same time. When Karin takes the dildo out, lots of pussy juice runs out. Karin unplugs her ass and puts big , vibrating dildo inside of it. Kat's pussy is ready to be fucked. Karin takes her big red strap-on and fucks her deep and hard from behind. Lana plays with Kat's nipples. Kat cums while Karin fucks her.
Approximately 44 minutes.
(They are also available as a Pay Per View part 1-4)
---
---
---
---
---
---
---
---
---
---
---
---
---
---
---
---
---
---
---
---
---
---
---
---
---
---
---
---
---
---
---
---
---
---
---
---
---
---
---
---
---
---
---
---
---
---
---
---
---
---
---
---
---
---
---
---
---
---
---
---
---
---
---
---
---
---
---
---
---
---
---
---
---
---
---
---
---
---
---
---
---
---
---
---
---
---
The Best Strict and Sensual Dominatrix Karin von Kroft




JOIN My Member's Site with movies, pictures and audio... NOW!
PROVOCATIVE AND SEXY... Check it out!
---
➤